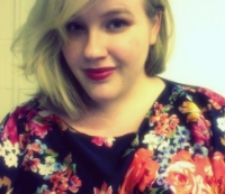 Kait | 22 | Philly 'burbs | college gal.
This blog will be for Outfit of the Day photos, clothing & fashion, and experimentation with clothing projects as I try to navigate a sewing machine.
This blog will also highlight curvy fashion, plus size fashion, fatshion, body positivity, and those who wear what they love at any size, so long as it makes them happy.
I don't any photos that are not my own.
PORN, BBW, and FETISH BLOGS: YOU HAVE NO PLACE HERE. LEAVE. DO NOT LIKE OR REBLOG ANY OF MY PHOTOS OR THOSE WHO WISH FOR YOU TO NOT LIKE OR REBLOG THEIRS AS WELL.

HOME
ASK
OUTFIT OF THE DAY
MAIN BLOG
Read about what I'm wearing, and follow my journey into fatshion, body positivity, and general happiness, on Not Afraid to Wear Heels
My first Disneybound… As you can see, it's a pretty simple Snow White getup :)

Rose headband thingy from Rue 21
Yellow flower earrings I've had foreverrrr.
Blue GAP Outlet ribbed tank
Eyelet skirt from Old Navy dyed yellow for the occasion
Black pointy flats also from Old Navy
"Watercolor" Vera Bradley hipster bag
(via tubbytattooedcurls)
Size: 18
Toronto Canada
IG: FlawsofCouture
FB: Flaws of Couture
(via beautyofthesoft)
This vest is my favorite and it is my proof that trying on clothing is important, even if it is straight size. I wasn't even going to try it on because it was a size xl and I usually can squeeze I to a 3x. I almost passed it up. I'm glad I didn't! it may not fit the way the designer wanted but it has become one of my favorite pieces of my wardrobe.
(via beautyofthesoft)
estate sales are my favorite. especially when you walk into a gem of a home like this.
(via elizabum)
my name is natalie and i'm fat. i've been more fat than i am now. i have been less fat. i've been the same fat. i'm fat from the side, fat from the front, fat from the back…you get the point.

fat girls have been lied to over and over in many ways our whole fat existences - told that we are restricted to certain styles/trends of clothing because anything too tight/short/revealing isn't 'flattering'. told that we should be glad to be hit on/cat-called by creepy men because hey, at least it's something, right?! told that the world isn't open to us and that we can't be incredible creatures because we're fat. told that we're ugly/undesirable/weak/stupid/disgusting. told that we don't deserve to be loved…or even to live.

it's not true. none of it is true.

people ask me often - "i hate myself. how do you do it?" it's simple.

one day, i decided that i was worth greatness, whatever size i was or wasn't.

i wish i could go back to awkward, shy 13 year old me, look her dead in the eye and tell her that she. is. perfect. tell her that she can go anywhere, be anyone, wear anything and that she will always be important and will never, ever, ever be merely 'the fat girl'.

i won't drown in sweat in texas summers to cover my fat arms in sweaters or shield my thunder thighs from the spring breeze just because you don't want to see them. my fat arms and thunder thighs have always been here for me when much of the world wasn't. i won't be beat down by people who do not care if i cry myself to sleep at night.

my mom has always told me that i am my biggest fan and ya know what?

she's right.

you're allowed to feel good. don't let anyone take that away from you.
(via beautyofthesoft)
BLOG UPDATE | Flying the Friendly Skies www.garnerstyle.blogspot.com #plussize #blogger #fashion #fatshion w/ @lydiahudgens
(via beautyofthesoft)
new blog post // black excellence.
(via pocfatfashion)
At first I liked the 1st pic, but I'm starting to like the 2nd pic more now. Which pic you think is better? I'm going to submit one, but can't decide :3