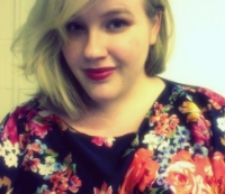 Kait | 22 | Philly 'burbs | college gal.
This blog will be for Outfit of the Day photos, clothing & fashion, and experimentation with clothing projects as I try to navigate a sewing machine.
This blog will also highlight curvy fashion, plus size fashion, fatshion, body positivity, and those who wear what they love at any size, so long as it makes them happy.
I don't any photos that are not my own.
PORN, BBW, and FETISH BLOGS: YOU HAVE NO PLACE HERE. LEAVE. DO NOT LIKE OR REBLOG ANY OF MY PHOTOS OR THOSE WHO WISH FOR YOU TO NOT LIKE OR REBLOG THEIRS AS WELL.

HOME
ASK
OUTFIT OF THE DAY
MAIN BLOG
07 March 2014
tights - Target
booties - H&M clearance
dress - Kohl's clearance and cut supah short
sweater - thrifted
lips - Maybelline's "Blissfully Berry"
Plus Size Vintage Blue Floral Pleated Swing Full Skirt (Size 20W) - $25  <— New in Store!
(via phattyphashions)
sometimes you throw together outfits under laundry day duress and they end up being pretty legit 
(via horrorproportions)
Bridal shower outfit!! Accidentally cut the shoes off, they were leopard Rebecca minkoff slingback pumps. Kate spade dress, Rebecca minkoff bag (mini affair in rose gold/white), baublebar necklace, lipstick is modelco party proof in red velvet. :)
Always the fat girl with the big hair and dark lipstick…

PERFECT.
(via fullofsassanddonuts)
Drunk NAR picture from Saturday I just found on my phone. I wish that shirt came in gold sequin. That would be pretty perfect. Get on it, Forever21, please!
i walked into the shop & my boss goes 'BITCH DID WE GO TO HIGH SCHOOL TOGETHER'

she's rly loving&supportive of my 90s lifestyle

———————————————-

flannel — dad's closet

slip — ooooooold school vintage cacique

tights — rite-aid obvi

docs — ebay

power crystal — work

rings — everywhere
(via foureyes-thunderthighs)