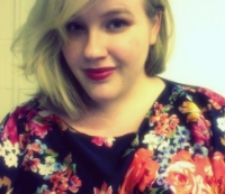 Kait || 21 || Philly suburbs || college kid.
This blog will be for Outfit of the Day photos, clothing & fashion, and experimentation with clothing projects as I try to navigate a sewing machine.
This blog will also highlight curvy fashion, plus size fashion, fatshion, body positivity, and those who wear what they love at any size, so long as it makes them happy.
HOME
ASK
OUTFIT OF THE DAY
My main URL is
brightasslipstick
, with a clickable link to come soon.
christmas!!!!! is!!!! almost!!!!! HERE!!!!!!!!!!!!!!!

You look so cute ready for Christmas!! :)
Plus model Jezra M +

I just couldn't let this one go by. That skirt! Oomph!
(via fuckyeahfatpositive)
Minnie Mouse (~:
(via tubbytattooedcurls)
Kamie Crawford at JAG Models + Miss Teen USA 2010 by Heather Hazzan
(via curvynation)
⚫️💀Goth vibes💀⚫️ #personal

seriously the cutest and such a fashion inspiration always
(via blo0dstainedbikinis)
Modeling days😌
(Source: skinnygirlsbequiet, via curvygirlscanrockit)
Plus Size Vintage Unisex Maroon T-Shirt Kitsch Cat Design (Size L 12/14) - $18  <— New in Store!
(via Retratos on Behance)
(via heart-factory)