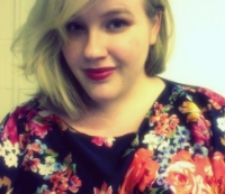 Kait | 22 | Philly 'burbs | college gal.
This blog will be for Outfit of the Day photos, clothing & fashion, and experimentation with clothing projects as I try to navigate a sewing machine.
This blog will also highlight curvy fashion, plus size fashion, fatshion, body positivity, and those who wear what they love at any size, so long as it makes them happy.
I don't any photos that are not my own.
PORN, BBW, and FETISH BLOGS: YOU HAVE NO PLACE HERE. LEAVE. DO NOT LIKE OR REBLOG ANY OF MY PHOTOS OR THOSE WHO WISH FOR YOU TO NOT LIKE OR REBLOG THEIRS AS WELL.

HOME
ASK
OUTFIT OF THE DAY
MAIN BLOG
Face and Outfit of the Day - 01 October 2013
blue dress thingie (Target, clearance rack)
blue and red floral sheer thingie, tied under the breast
tan/brown socks
brown booties
Maybelline's 10 Hour Lipstain in "Berry Heavenly"
Urban Decay Naked Palette all over the lid, I did a combo, I forget, but Virgin's involved
Babe'n all day. It's the first day of October and it's suppose to be a high of 77 degrees (F). WHAT WHY
18 notes
delco-sassy reblogged this from skirtstights-andthunderthighs and added:

I'm in love with my damn legs omfg