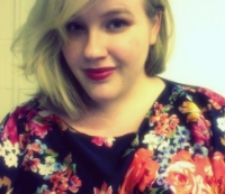 Kait | 22 | Philly 'burbs | college gal.
This blog will be for Outfit of the Day photos, clothing & fashion, and experimentation with clothing projects as I try to navigate a sewing machine.
This blog will also highlight curvy fashion, plus size fashion, fatshion, body positivity, and those who wear what they love at any size, so long as it makes them happy.
I don't any photos that are not my own.
PORN, BBW, and FETISH BLOGS: YOU HAVE NO PLACE HERE. LEAVE. DO NOT LIKE OR REBLOG ANY OF MY PHOTOS OR THOSE WHO WISH FOR YOU TO NOT LIKE OR REBLOG THEIRS AS WELL.

HOME
ASK
OUTFIT OF THE DAY
MAIN BLOG
So I got a tattoo yesterday.